Ramona Commerce Center, located in proximity/access to three major Interstates, the nation's busiest port system, and Ontario Airport in Perris, California, will be leased out to a Fortune 500 industrial supplier. Though, the company was not named. The news was first reported on GlobeSt.com.
IDI Logistics is the developer of this project which has an impressive lineup of customers, from Porsche Cars North America to Mitsubishi Electric, that it has helped relocate to bigger and better places in the country.
Heart of a Major Distribution Market in America
The Ramona Commerce Center, built on 24 acres of land, is located in the heart of a thriving distribution market of the country. An industrial supplier obtaining the location on lease makes sense as the center is strategically located. For instance, it is just 34 miles away from the Ontario Airport and 82 miles from the Los Angeles International Airport (LAX).
Further, it is just 78 miles away from the Los Angeles & Long Beach Ports.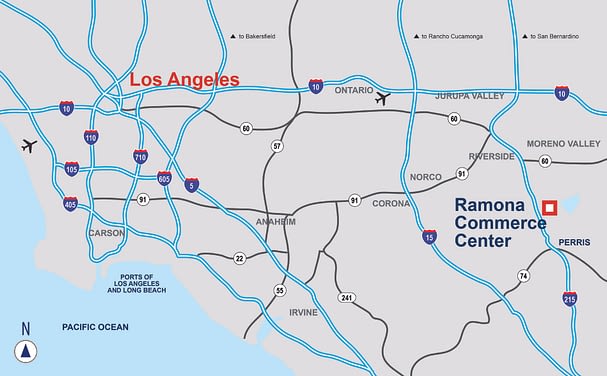 We Covered this in our Weekly Wire Roundup
Related: Ryder Gobbles Up e-Commerce Fulfillment Company Whiplash Logistics for $480M: Distribution and Logistics Market Heats Up.
Inland Empire: A Leading Big Box Industrial Market
CBRE, American commercial real estate services, and investment firm, published research that The Inland Empire is one of the largest big-box industrial markets in the U.S.
"The Inland Empire is one of the largest big-box industrial markets in the U.S. The majority of its industrial base is Class A distribution space in a highly concentrated 30-mile radius area".

Dan de la Paz – Executive Vice President, CBRE
CBRE Group reported that 21 of the 100 industrial leases in the USA were bagged by the Inland Empire region in 2019. Among the 21 deals, about 13 transactions involved leasing industrial spaces related to e-commerce activity in the IE region.
The region has 100K People employed in its warehouse industry. Add to it the fact that Amazon has heavily invested in the region. Per Amazon's estimates, the company has invested $19.3B in the Inland Empire since 2010 and added 40K+ jobs. It also plans to open two new fulfillment centers in Victorville and Ontario in 2022 and already operates an air hub in San Bernardino,
---
Our goal at Startempire Wire is to act as a megaphone to connect the dots between the best startups, events, and people in the Inland Empire. Don't forget to subscribe to our YouTube channel, and like/follow us on Facebook, Twitter, and Instagram.