The U.S Department of Energy's (DOE) Office of Technology Transitions (OTT) has launched a college competition asking students to present energy solutions and products using DOE national laboratory-developed and other high-potential energy technologies.
Student teams compete for a total of $250,000 in cash prizes as they explore business opportunities for lab-developed or other high-potential energy technologies, assess commercialization opportunities through market analysis, and present a viable business plan to industry judges. Throughout the competition, they receive mentorship and materials to help them succeed.

Energy TechUp
We Covered this in Weekly Wire Roundup
DEO's website notes that:
The top teams will compete for a share of $100,000 in prizes funded by OTT. In addition, six DOE Technology Offices offer up to $25,000 each in bonus prizes for the best teams in their respective fields. The six offices include
The Geothermal Technology Office
Solar Energy Technology Office
Office of Nuclear Energy
Office of Fossil Energy and Carbon Management
Building Technology Office
Water Power and Technologies Office
How does it work?
It's a three-step process before the winners of this competition are announced:
Teams first present at their closest regional events in January 2022, where regional winners are identified.
First-place regional winners are provided exclusive mentorship and free access to OTT's Energy I-Corps curriculum to help students refine their ideas throughout February and March.
The regional winners pitch their complete business plan at Carnegie Mellon University Energy Week in March 2022.
Information Webinar about EnergyTech University Prize
The main idea behind DOE's initiative to award cash prizes to students for coming up with the latest approaches and solutions is to increase the commercialization of energy innovation ideas.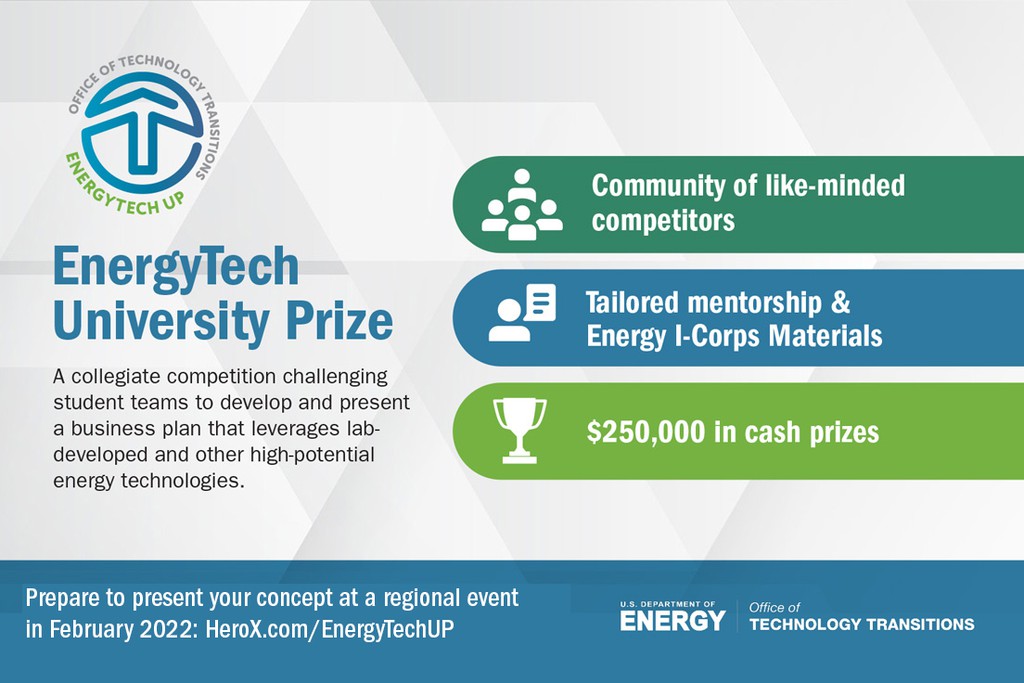 OTT Summer 2021 Entrepreneurship Program
The Department of Energy's (DOE) Office of Technology Transitions (OTT) launched its inaugural student intern program in June 2021. In this initial cohort of interns, 14 student interns were matched with 14 lab technologies. Each student was paired with a mentor.
These students will work at the intersection of technology and business and DEO's US National Labs to advance commercialization via different energy commercialization projects. 
Below is a video of interns who participated in the OTT Summer 2021 Entrepreneurship program.
---
Other stories related to sustainable energy you might find useful:
Our goal at Startempire Wire is to act as a megaphone to connect the dots between the best startups, events, and people in the Inland Empire. Don't forget to subscribe to our YouTube channel and like/follow us on Facebook, Twitter, and Instagram.