StarNav is a Riverside ExCITE accelerator-based startup that develops special navigation receivers to provide positioning without GPS. Its target customer is the Department of Defense (DoD). This is especially useful when facing GPS jamming and spoofing.
How StarNav Works?
"What StarNav's devices do is they collect radio signals such as cellular or television signals or low earth satellite signals present within the target area and convert them into positioning information. StarNav's devices are equipped on vehicles for commercial or defense purposes".

Joshua Morales, CEO & Founder, StarNavLLLC
We covered this in our Weekly Wire Roundup
Test Flights
Test StarNav will test flights of their new position, navigation, and timing (PNT) products on a U.S. Air Force T-38 jet by the Test Pilot School (TPS) at Edwards Air Force Base.
StarNav's PNT product test will serve as one of four projects for the Class 22B Test Management Project (TMP). The project will start around Oct 2022, fly in Mar 2023, and be complete in Jun 2023.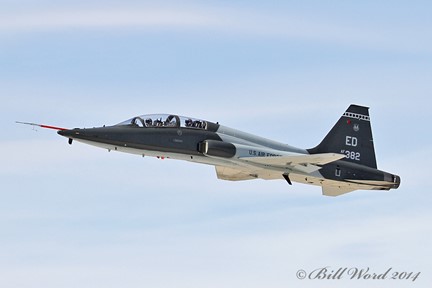 "StarNav is excited to participate in a project that both demonstrates our technology on a jet platform and allows us to work side by side with U.S. Air Force end users," said Joshua Morales, Chief Executive Officer of StarNav. "These projects allow us to better understand DoD end-user needs and requirements. In the end, U.S. military officers get hands-on experience with new PNT products and StarNav obtains useful test data, which allows us to deliver products that better address the DoD's PNT pain points; a win-win for everyone."
What is Positioning, Navigation, and Timing (PNT)?
This concept means the ability to determine the current and desired position (relative or absolute) and apply corrections to course, orientation, and speed to attain the desired position anywhere around the world, from sub-surface to surface and from surface to space.
Class 22B Test Management Project (TMP).
Software-defined radio (SDR) platforms
Deploying cutting-edge techniques to enhance GPS reliability and leverage radio signals of opportunity as a supplement or backup to GPS. These supplement signals include terrestrial signals, such as cellular and television, and satellite-transmitted signals, such as communication and the internet.
StarNav utilizes special analog and digital signal processing designs to extract PNT information from multiple signal types from a single product.
StarNav for Navy
The Navy also awarded a contract to StarNav for it to enhance vehicle positioning reliability and accuracy during GPS outages for the Navy. The startup was also awarded a contract from Army.
Use Cases
Self-Driving Vehicles
Unmanned Arial Vehicles
Surface Vessels
Orbital Determination
---
Our goal at Startempire Wire is to act as a megaphone to connect the dots between the best startups, events, and people in the Inland Empire. So don't forget to subscribe to our YouTube channel and like/follow us on Facebook, Twitter, and Instagram.