Helping You Protect Your Family And Your Legacy With Mike Ortiz of Ortiz Law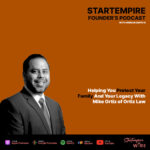 In this episode of The Startempire Wire Founder's Podcast I sit down with #Entrepreneur Michael Ortiz, Founder of Ortiz Law Estate Planning & Probate. We discuss Mike's journey of the creation of Ortiz law & talk about where his Startup currently is in the growth process and current goals and needs.
Ortiz Law prides itself on developing real connections with clients. They put complex legal issues into language that you can easily understand. They work hard to help their clients in every situation. Ortiz Law treats their clients with respect and spend time to make sure the clients fully understand the process they are going through.
Check this episode out NOW LIVE on YouTube and all major podcast platforms.
0:51 Your Personal Introduction
1:54 Introduction & Origin of your Startup
4:11 How you get yourself into this business
11:03 What need does your Startup meet?
13:34 Commercial
15:31 The Growth of Your Startup
27:31 Current Needs of Your Startup
30:10 Short term goals of your Startup
35:26 Future goals of your Startup
39:16 Info about you & your startup online
Startup Profile  & Transcript
https://www.mikeortizlaw.com/
This transcription is pending…. Please check back later. 🙂