Building, Educating & Promoting Sustainable Systems for Business With Steve Kinzey of SK America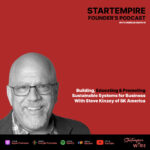 In this episode of The Startempire Wire Founder's Podcast I sit down with #Entrepreneur Steve Kinzey, Founder of SK America & organizer of the Inland Empire WordPress Workshop Meetup. We discuss Steve's journey of the creation of SK America & talk about where his Startup currently is in the growth process and current goals and needs.
SK AMERICA LLC provides small businesses with modern, responsive, lead-generating, and accessible websites so they can compete in today's economy. Since 2012, we have designed, built, and maintained over 100 websites. We provide everything our clients need to maintain a web presence, including SEO, SEM, and SMM.
Check this episode out NOW LIVE on YouTube and all major podcast platforms.
1:27 Your Personal Introduction
3:00 Introduction & Origin of your Startup
11:22 More about SK America
13:49 Commercial
15:44 The Growth of Your Startup
30:17 Short term goals of your Startup
31:44 Future goals of your Startup
49:38 Info about you & your startup online
Startup Profile  & Transcript