Contributing to The Growth of Entrepreneurs & Creators Via Digital Printing with Maritza Gomez of MG Custom Printing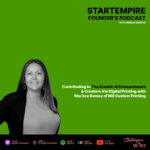 In this episode of The Startempire Wire Founder's Podcast I sit down with #Entrepreneur Maritza Gomez, Founder of MG Custom Printing. We discuss Maritza's journey of the creation of MG Custom Printing & talk about where their Startup currently is in the growth process and current goals and needs.
MG Custom Printing's goal is to contribute to the growth of entrepreneurs and creators by providing digital printing on merchandise with attention to detail and low minimums.
Check this episode out NOW LIVE on YouTube and all major podcast platforms.
1:03: Your Personal Introduction
3:14 Introduction & Origin of your Startup
10:14 What need does your Startup meet?
15:20 Commercial
17:25 The Growth of Your Startup
22:28 Current Needs of Your Startup
31:13 Short term goals of your Startup
32:42 Future goals of your Startup
34:42 Info about you & your startup online
Startup Profile  & Transcript
This transcription is pending…. Please check back later. 🙂