Building Substantive & Sustainable Support for Entrepreneurship in The Inland Region With Dr. Michael Stull of The Inland Empire Center for Entrepreneurship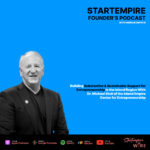 In this episode of The Startempire Wire Founder's Podcast I sit down with #Professor Mike Stull, Director of the Inland Empire Center for Entrepreneurship (IECE) at California State University, San Bernardino (CSUSB). We discuss Mike's journey of the becoming the Director of the Inland Empire Center for Entrepreneurship & talk about the variety of programs and support that is offered through the center along with current goals and needs.
The primary purpose of IECE is to cultivate entrepreneurship throughout campus and within the Inland Empire. Acting as a bridge between education and the professional business community, we encourage entrepreneurship students to achieve their goals while providing valuable resources and jobs within the region. Creating the ideal environment for students to engage in experiential learning that goes beyond the classroom as they engage with seasoned entrepreneur role models through various networking events and programs, have access to scholarships and our Catalyst accelerator advantage.
Check this episode out NOW LIVE on YouTube and all major podcast platforms.
0:58 Your Personal Introduction
4:10 Introduction & Origin of your Startup
845 Commercial
10:30 How it's All Started
24:29 The Growth of Your Startup
41:10 Download the Report
41:38 Short term goals of your Startup
45:56 Future goals of your Startup
55:21 Info about you & your startup online
Startup Profile  & Transcript
This transcription is pending…. Please check back later. 🙂