Teaching SHE,E00,000s to Learn While They Earn With Rachel Medina of RM101 Media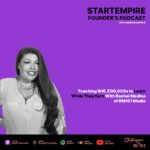 In this episode of The Startempire Wire Founder's Podcast I sit down with #Entrepreneur Rachel Medina, Founder of RM101 Media & the Rachel Unpacked Podcast. We discuss Rachel's journey of the creation of RM101 Media & talk about where her Startup currently is in the growth process and current goals and needs.
Rachel Medina is a serial entrepreneur based in Southern California best known for creating the grassroots competitor to Houzz/AngiesList, called JustHome.us and JustHome Magazines with over 300,000 circulation.
She is also the host of two podcasts. Rachel Unpacked ranked 4th in the nation for female entrepreneurs by FeedSpot and You Deserve Fresh Lettuce, a fun relationship show gaining traction globally, Co-hosted with long time friend, Delia Monarch
Rachel is the Founder & CEO of RM101 Media Group, along with the SHE,E00,000 project she has designed with the help of Daneen San Pedro, to empower mommypreneurs and women everywhere, wanting to build side hustles / businesses from home. The SHE,EOO,OOO platform offers education, resources, and community for aspiring female entrepreneurs.
Check this episode out NOW LIVE on YouTube and all major podcast platforms.
1:10 Your Personal Introduction
2:50 Introduction & Origin of your Startup
9:24 Commercial
11:15 How many Episodes you make?
20:21 The Growth of Your Startup
34:45 Current Needs of Your Startup
37:01 Short term goals of your Startup
40:41 Future goals of your Startup
44:42 Info about you & your startup online
Startup Profile  & Transcript
This transcription is pending…. Please check back later. 🙂