Providing Efficient and Effective Legal Representation With Estefan Encarnacion of EBL Law Group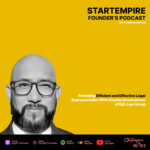 In this episode of The Startempire Wire Founder's Podcast I sit down with #Entrepreneur Estefan Encarnacion, Founder of EBL Law Group. We discuss Estefan's journey of the creation of EBL Law Group & talk about where their Startup currently is in the growth process and current goals and needs.
EBL 's goal is to provide you with efficient and effective legal representation. They are a full service firm, which means that they can help you with a consultation all the way through trial.
Check this episode out NOW LIVE on YouTube and all major podcast platforms.
0:27 Your Personal Introduction
3:26 Introduction & Origin of your Startup
10:02 Commercial
17:40 Origin and Starting of EBL Law Group
32:45 The Growth of Your Startup
40:19 Current needs of your Startup
45:40 Short term goals of your Startup
50:01 Future goals of your Startup
54:57 Info about you & your startup online
Startup Profile  & Transcript
This transcription is pending…. Please check back later. 🙂