Inspired & Inspiring via The Creation of Confectionary Treats with Diana Gomez of Bittie Bites By D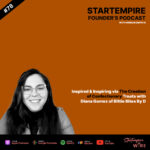 In this episode of The Startempire Wire Founder's Podcast I sit down with #Entrepreneur Diana Gomez, Founder of Bittie Bites By D. We discuss Diana's journey of the creation of Bittie Bites By D & talk about where her Startup currently is in the growth process and current goals and needs.
Bittie Bites By D is a Inland Empire Based Desserts Business Who's Mission is to inspire and be inspired. Diana Gomez part time baker with the love of making Cake-hearts & Choco Strawberries. Bittie Bites By D Caters and creates desserts, treat and cakes for many occasions contact Diana today to place your order.
Check this episode out NOW LIVE on YouTube and all major podcast platforms.
00:47 Introduction
02:45 Journey of Business
05:38 Overview of Business
10:02 Commercial
12:22 What people are ordering
19:04 Growth of your Startup
26:21 Future Goals
28:47 Where people can find
Startup Profile  & Transcript
This transcription is pending…. Please check back later. 🙂
Latest Riverside County Articles